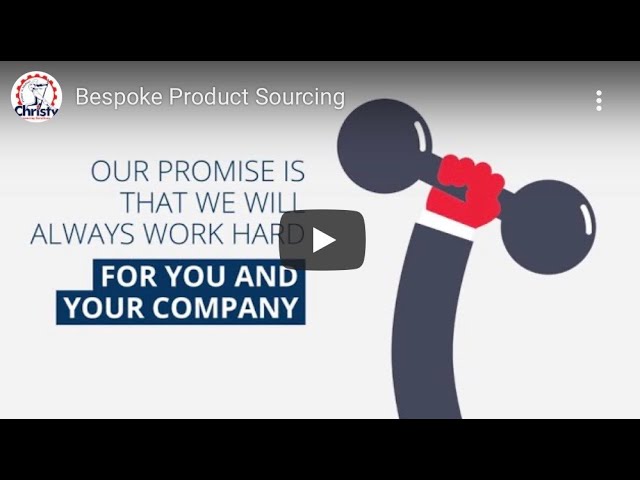 BESPOKELY SOURCED, JUST FOR YOU.
There is no need to tell us twice the challenges that can occur when trying to source new, specific or obscure items for a project, that's why all you need to do is let us know what you're looking for and we'll do the rest. Over the years we have built relationships with partners in the industry and we're confident when we say we can supply you with quality products with excellent service.
Take a look at our short video that explains how our bespoke product sourcing team will get to work sourcing the products that are right for you and your company.
NO MATTER THE INDUSTRY.
Whether you work in the Automotive, Agriculture or Food Production sector, let us know how we can help and we will be sure to supply you with what you need and for whenever you need it, try us! There is nothing we enjoy more than finding those tricky to source items when you thought it wasn't possible. If your industry requires a specific brand or even specific material just let us know and we'll work around the clock to supply you with what you need.
NO JUDGEMENT HERE.
If there is a product out there that you need our team can help you source it. We have been known to source customers specific Electric Actuators, large volumes of PPE and believe it or not we have even been known to source Amazon Kindle's for primary school children working remotely during the pandemic! There is no judgement at Christy Engineering Solutions, if you need it our bespoke product sourcing team will help you find it.
DON'T JUST TAKE OUR WORD FOR IT.
See what one of our customer's from the Power Systems industry had to say about how we helped them in a time of need.
"Our previous actuator supplier let us down badly, the parts were failing prematurely and the refurbishments were proving sub-standard. Support was not forthcoming. We found we had two test systems down and all our spares failed commissioning. Christy Hydraulics identified a suitable alternative to the actuator we had installed. They also arranged for the lead time to be halved by the supplier in response to our needs. I ordered 2 initially to get the test cells up and running in time and set up an order for more spares. We have since installed another 5 and in just over a year have up-fitted 44% of our valves, replacing the old actuator with this new part. We have plans in place to upgrade the rest as they fail. The part identified has proven to be a great asset. They were able to negotiate a quick lead time with their supplier and delivered as promised. The part was easy to install and setup. The actuator is easily configured to match our speed and accuracy requirements and is a big hit with the operators. These parts have been in active use for close to 12 months now and so far have exceeded all expectations."

– Senior Laboratory Operations Engineer, Power Systems Industry